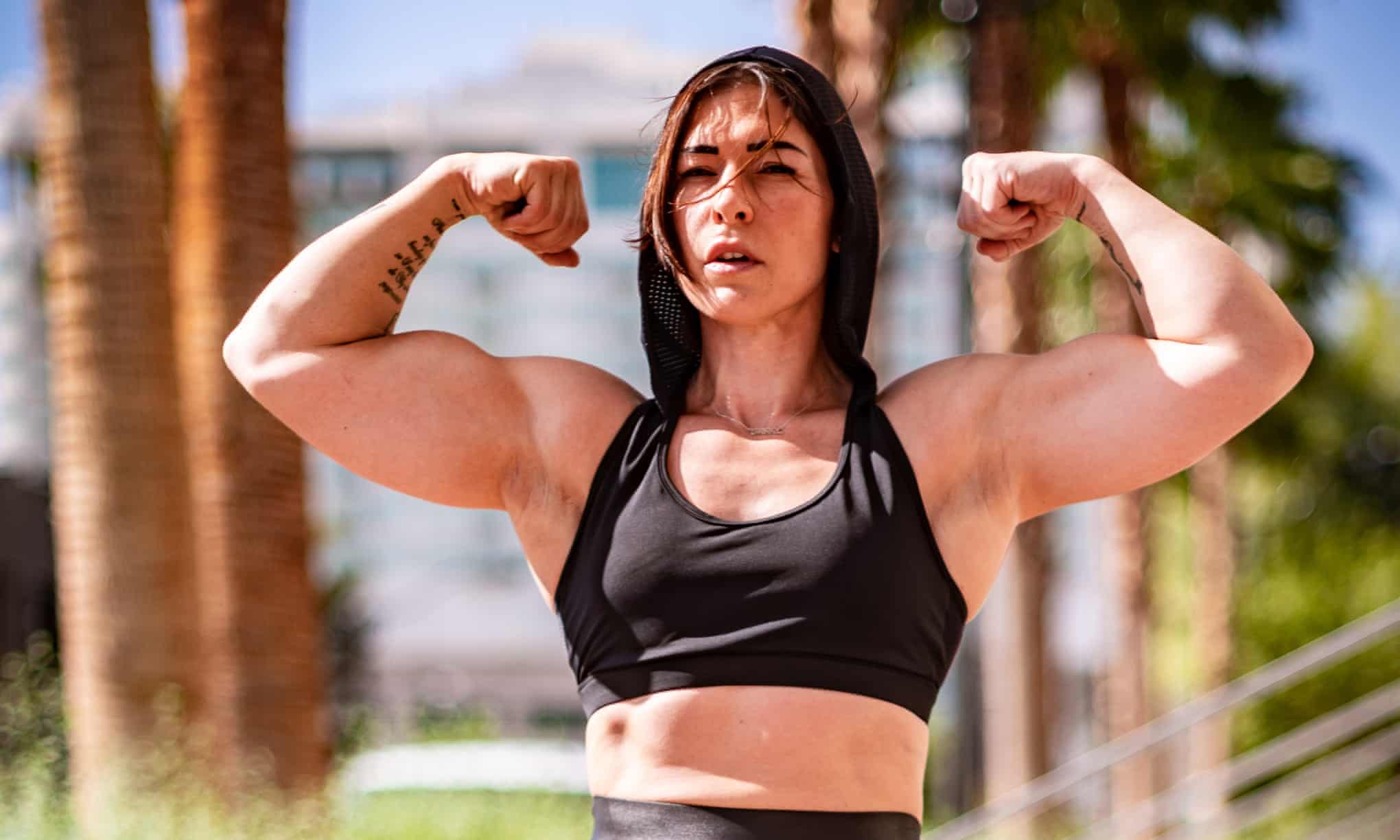 A wave of super strong female athletes are smashing sizing stereotypes, and changing the way other women work out
The Guardian:
A woman in activewear crosses the street towards a car with blacked-out windows and no licence plates and says to the man inside, "Did you just catcall me?"
When he reluctantly confirms that he did, she says cheerfully, "I'm just going to tell you right now, a lot of women get intimidated when you do that … Most women are like, this motherfucker's going to throw me in the back of the car, you know what I mean? I dress like this because it's hot as fuck and I work out really hard. Pow. I'm strong and powerful and I'd fuck you up. But what I'm saying is, a lot of women get really intimidated by catcalling. You got me? So that's what's up. What's your name?"
She fist-bumps him. "Jason, I'm Kortney. It's nice to meet you. Take care."
Jason likely didn't know he'd chosen
Kortney Olson
to hiss at. She's the bodybuilder who smashes watermelons between her thighs and is an Australian women's armwrestling champion. Her Instagram page is full of powerlifting feats – and the occasional candid video like her meeting with Jason.
Olson benchpresses men like Jason. Go into any gym these days and you'll notice a migration of women from treadmills and cardio classes to the weights section. Back gains and abs are the new aesthetic, thanks in part to the rise of CrossFit, Bodypump and F45, and gym noticeboards are more concerned with strength competitions – heaviest leg press, squat etc – than scale measurements. Mega-ripped fitness models such as
Gracyanne Barbosa
have millions following their workouts on Instagram, and the US-founded STRONG Fitness Magazine launches in Australia this month, aimed at women.
"I love muscle. That's just my thing," says Olson, whose website delivers training programs that promise to add an inch to arms and legs: "Not so much on dudes – it's not a prerequisite – but on women it's outstanding."
Olson was fascinated by the idea of having a six-pack from an early age, partly from idolising her older brother and partly, she says, because she was molested as a seven-year-old.
"From that point on, I created this image of myself being ripped in order to feel protected and worthy and safe," she says. "I have found that most of the women that get into bodybuilding or strength training or powerlifting have had some kind of trauma."
>>Read More