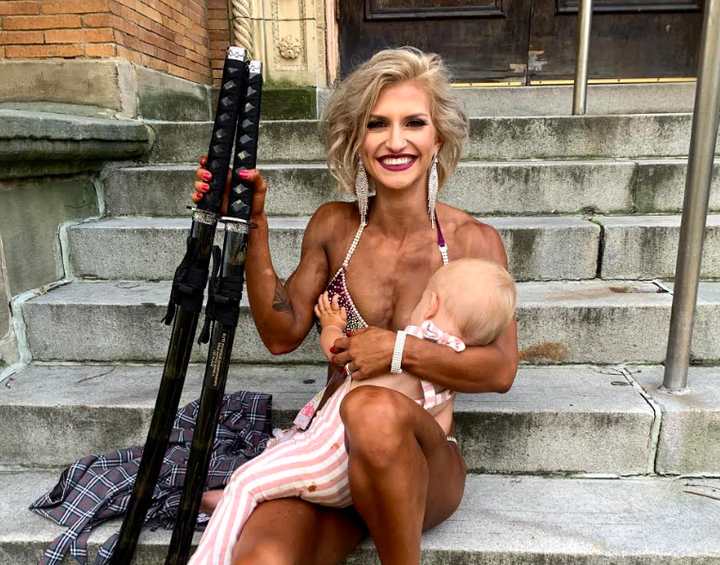 HuffPost -
: Imagine this: You are standing under bright show lights on a stage in front of a few hundred people. You have no clothes on, except for a tiny, sparkly, $400 bikini that's been glued to your chest and butt. You are orange and pungent with spray tan, which you got after standing fully naked in front of a stranger with a paint gun who asked you to spread your glutes to make sure the tan gets in all of your crevices. You will walk to the center of the stage in 4-inch heels to be judged by a panel of five people who will look for any jiggle of fat, any pock of cellulite, any unsymmetrical or underdeveloped muscle to determine your ranking among others. Most people around you are rooting against you.
"I constantly grappled with the selfishness of extreme fitness juxtaposed with the selflessness of new motherhood, and the world had a lot to say about it."
I've been in the fitness industry for almost 10 years now, the back half of which being what I consider extreme fitness, a world of the relentless pursuit to grow larger muscles and shrink any remaining deposits of fat that have dared to stick around. It's grueling. It's sweaty, exhausting, time-consuming and expensive.
Your body hurts and your mind plays tricks on you, turning every glance in a mirror into an all-out dissection of any physical imperfection. Your muscles get big and your ego gets bigger. You can walk through a crowd and think I am the leanest, strongest, most muscular person here and then get home to look in your mirror and think I am a shrimp, I am pathetic, I don't stand a chance. It's physical and psychological warfare with yourself. I love it.
Prepping for a bodybuilding competition involves excruciating diet manipulation, rigorous amounts of cardio and long hours in the weight room. At my most intense, I've spent nearly three hours a day lifting weights and doing cardio. I've eaten the same meal of chicken, cucumbers and vinegar twice a day every day for weeks on end. I've packed pathetic Pyrex bowls of bland, macronutrient balanced meals to parties and dinners where I looked away from the mac and cheese and desserts and bit into another cold piece of chicken.
>>Read more at